actually this is take four.
exit hole on top. Mistake. lots of uncombusted smoke

exit hole on bottom. Better, but still lots of smoke

pipe extention to inject smoke into the heart of fire. That worked, but the ducting I was using still leaked smoke.

today's experiment
Somehow, the thought of using an old paint can came to mind. I looked at my collection of paint and I found two that were bad. I took the old primer can with thick yogurt consistency. Plus there was only 1.5″ left. I cleaned it out and drilled a 1/2″ hole in the bottom for the pipe. Notice the elbow to reduce the chance of stuff getting in there. Also the small hardware cloth cage to ensure a clear path to the pipe. The outside of the can is a 3/4″ wash with threads cut into it using the pipe
thread cutter
I got from Harbor Freight.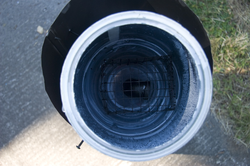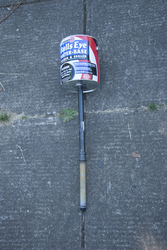 Here, you can kinda see the pipe extending down into the fire.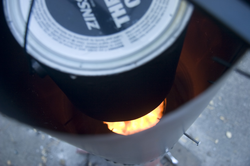 The first batch had some smoke, but I suspected that's the coating on the can burning off.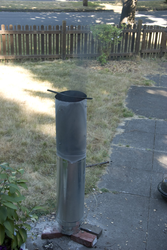 The results are pretty good, though not very much of it. Need to find a larger paint can. Somehow I remember the existence of 2.5 gallon containers.