Here's a picture of our garden stitched form pictures this evening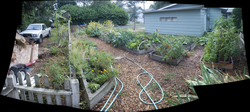 It's been a good season. Better than last year; Robie and I are learning a lot. Most folks I know that have a garden have noticed that the season's been less productive than we'd like, but we're pleased with the success we have had and what we've learned.
On my drive home, I pass by a horse ranch Abbey Creek Stables. Although it's not there anymore, they used to have a sign at the entrance "Free manure. We load". Since you can never have enough compost and because I like the word "free", I went and got some. Two loads actually for a total of about two cubic yards.
Composting is one of those things that sounds more complicated when you read about it than it actually is. Websites and books talk about cabon/nitrogen ratios and all that. Some refer to it as browns/greens. I've generally found that what I've got is what I've got. If I have too much green, like from cutting the grass, I can't just conjur up some leaves to balance it out. Whatever I have is what ends up in my compost bins.…