So I've been wanting to build the Gingery series of metal working tools, starting with the lathe. As part of that, I'd need some v-belt pulleys. I could buy them, but that seems a bit expensive.
Why buy, when you can build?
So I built a jig for cutting the v-groove and and it's turned out pretty good.
The inside angle of is 40 degree, so the jig hold the material at 110 degree relative to the table, giving the required 20 degrees on either side.
Operation is just like cutting a circle on the tablesaw, but with a different angle.
When I attach the pulley to the shaft, note that I've drilled and tapped a hole. I have a 1″ 1/4-20 screw on either side. One of them is visible and the other is hidden.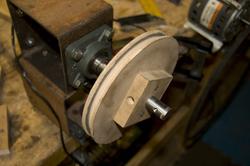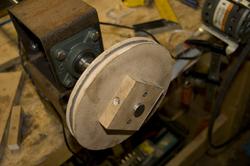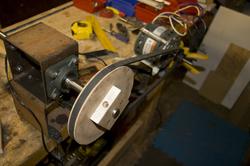 Cutting v-belt pulleys on a tablesaw