More pics at Green Lakes pictures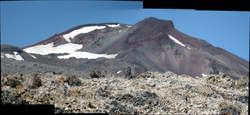 Robie and I went camping last week for Labor Day. We went Green Lakes, OR which is about 30min west of Bend.
We drove down Friday night and slept in the "bed" of my truck and hiked up Sat morning. There were a fair number of people and due to the fact that you can only cmap in designated campsite, I was a little worried we'd find a place.
anyway. We found a great site, but there was little excaping of the wind. We did have a spot maybe 50 feet that we pretty well sheltered, and we basked a bit in the sun in the afternoon. Once the sun went down, it got pretty cold though. I have a rubber water bucket that I use for filtering (must easier than squatting by the stream) that I'd left out overnight. It got about 1/4″ or 3/8″ layer of ice.
The next day was much windier and chillier. Still very nice but not as much ufn. We had intended on camping Sunday night as well, but we elected to just hike back. We took a side route which was VERY nice.
Anyway, the pictures are more interesting than me rambling about it. 😉